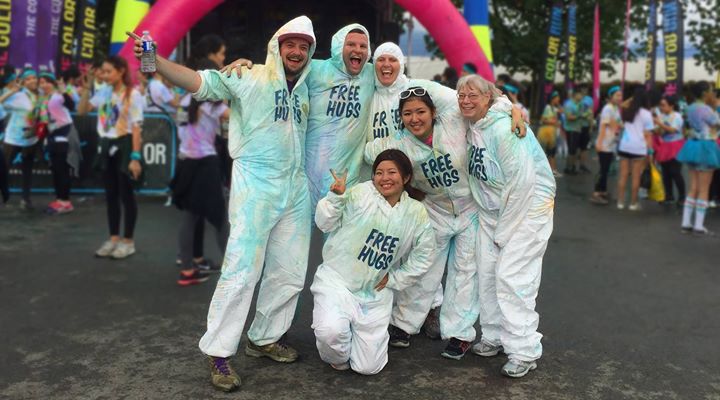 Color Run Free Hugs (Las Vegas, NV)
February 25, 2017 8:00 am - 11:00 am
El Cortez Hotel & Casino – Las Vegas
600 Fremont St
Ok you have to do this with us because it's amazing! You've heard of color runs right (http://thecolorrun.com/locations/las-vegas/)? Lots of happy people walking/running through a 5k, getting covered in bright colors along the way, then celebrating with an amazing party at the finish line. So that's fun, but it's even more fun to greet the finishing participants with a celebratory hug of messyness!
Meet up with us (specifically outside the El Cortez Hotel & Casino at Fremont St. and S. 6th St.) and get a free set of head-to-toe coveralls that say "free hugs" to cover all your nice clothes, then we'll go 4 blocks along the route in our fresh white outfits hugging the participants until we're covered in their colors. The best part is the finish line – they'll have a stage with great music, tons of happy people feeling the thrill of their accomplishment, and all of them will want to hug their messy colors all over us! By the end we'll have the colored shapes of each hugger as "hug imprints" – making people happy and creating artwork at the same time!
This will be our second "free hugs" event at a color run and the first was incredible. Check out the video playlist at https://www.youtube.com/watch?v=4aIZAvkeP4g&list=PLm-hUTRsS5LaOqbWKAIox8EwddTawjs-F for a small taste of the amazingness.
If you've ever wanted to try giving out free hugs, this is your chance! Just be sure to press "Going" on the Facebook event page so that we know to expect you and we can bring you a set of coveralls.
Never given out free hugs before? Check out http://www.improvanywhere.ca/freehugs.html and http://hugsarenice.com/ to learn all about it, then just show up with open arms and a smile and that's all there is to it! Wear anything you have that's fun and we can bring extra colorful "free hugs" signs for anyone that needs them. This event is totally free, takes no preparation, and requires no commitment whatsoever – give it a shot and feel free to leave at any time if it's not for you. But just so you know, you'll likely find yourself hooked within minutes and you won't want to leave even after everyone else is gone.
#TheColorRun #DreamWorldTour #colorrun #colorrun2017 #colorrunlv #colorrunlasvegas #colorrunner #colorrun5k #lvcolorrun #colorfest #5k #5kcolorfest #colorful #tropicolor #tropicolorrun #colorrun #hugsarenice #freehugs #hugs #hug #coveralls #hazmat #messyhugs