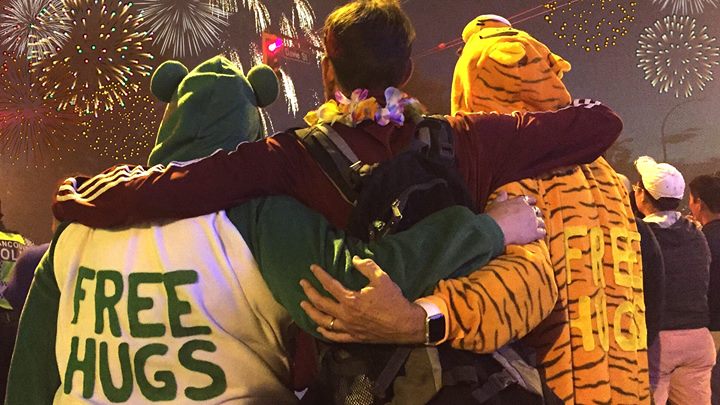 Fireworks and Free Hugs! Day 1 (Vancouver, BC)
July 29, 2017 10:00 pm - 11:00 pm
1754 Davie St, Vancouver, BC V6G 1V9, Canada
When you think about fireworks, you might not automatically think of hugs, but you should. Fireworks are emotional with a spectacular ending, followed by a quiet anticlimactic walk home. Picture that . . . hundreds of thousands of people leaving the Honda Celebration of Light fireworks show (http://hondacelebrationoflight.com/), funneling down a street like a river of people wanting more fun to happen, and we'll be right there in the middle of it. Actually, don't just picture it, watch this video from last year:
https://www.youtube.com/watch?v=y8GJVZp1HYU
Can you believe that?! It's like we're loving bears in a sea of hug-hungry salmon! At times there were so many people waiting for hugs that we gave 30-40 hugs per minute and by the end of the night we had hugged thousands of people!
Oh this is is exciting. Ok so to the details:
When: Saturday July 29, Wednesday August 2nd, and Saturday August 5th, just as the fireworks are starting at 10pm and lasting until the people are gone
Where: Davie Street between Bidwell Street and Denman Street (https://goo.gl/maps/KZNwAh32Bq72)
What to wear: Onesies! If you have a huggable onesie, wear it. Check out http://hugsarenice.com/shop for some cool stuff. We'll likely have a Cookie Monster and an Elmo so the more characters the better. If you don't have a onesie, just wear whatever and bring your smile!
Never given out free hugs before? Check out http://www.improvanywhere.ca/freehugs.html to learn all about it, then just show up with open arms and that's all there is to it! This hugging event is totally free, it takes no preparation, and it requires no commitment whatsoever. Give it a shot and feel free to leave at any time if it's not for you, but just so you know, you'll likely find yourself hooked within minutes and you won't want to leave even after everyone else is gone.