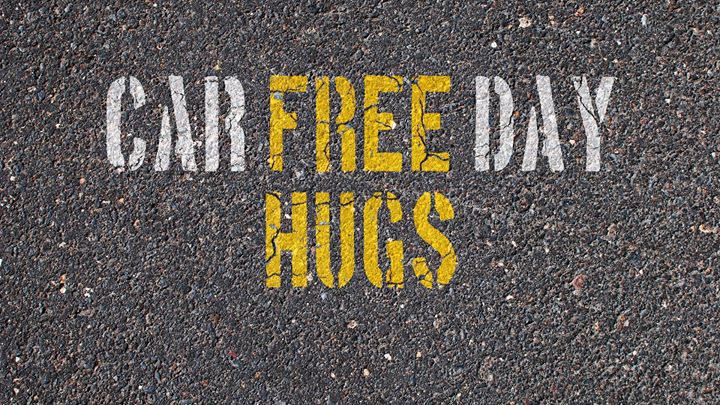 Free Hugs at Car Free Day (Vancouver, BC)
July 9, 2017 12:00 pm - 3:00 pm
2195 Commercial Dr, Vancouver, BC V5N 4B3, Canada
Imagine a world without cars – what would we do with all that space? Well we would fill it with happy people of course, and where you find happy people, you find free hugs! Car Free Day is a big deal in Vancouver, and even though two events have already happened in different parts of the city this year, everyone knows the biggest and the best is on Commercial Drive. Join us as we draw out a "hug zone", open our arms, and offer free hugs to everyone that walks by!
This year we hope to shower Car Free Day with some seriously artistic chalk art, bright colors, great outfits and signs, and some amazing hugs! We have an official space saved for us right at the corner of Commercial Drive and E. 6th Avenu (2195 Commercial Drive – https://goo.gl/maps/dw1jjkmNK2M2, catty-corner to our famous "hug zone" spot in front of JJ Bean Coffee). Find the "hug zone" star in the very specific map at http://hugsarenice.com/car-free-day-map.jpg. Meet us right at noon and help us set up and start drawing, or feel free to come later and join us at any point. Wear something with bright fun colors (even a onesie if you have one and it's not too hot) and jump in as we make everyone super happy! If you don't feel like hugging, just pick up some chalk and draw some cool stuff in the Hug Zone – it's all super casual.
What's a Hug Zone? They were pioneered in Vancouver, BC by Gabriel McCay (one of our best huggers, if not the best) as a method of artistic expression that causes ripple effects. Using sidewalk chalk and creativity, a group collaborates to make an area that draws people in, with wording that encourages hugging. Strangers will accept free hugs within the hug zone, but something magical happens even after the group leaves – people continue to walk into the hug zone and hug each other. Depending on the rain, the hug zones can last weeks, encouraging even more hugs every day. Is there anything more beautiful than artwork that causes actions and emotions? Even if you don't feel like hugging, come along and you can spend the entire time drawing on the sidewalk like you're a little kid again! Learn more about The Hug Zone Project at http://www.westcoasthugs.com/the-hug-zone-project/.
Never given out free hugs before? Check out http://www.improvanywhere.ca/freehugs.html and http://hugsarenice.com/ to learn all about it, then just show up with open arms and a smile and that's all there is to it! We'll have extra chalk if you feel like drawing, or just laugh and smile! This hugging event is totally free, it takes no preparation, and it requires no commitment whatsoever. Give it a shot and feel free to leave at any time if it's not for you, but just so you know, you'll likely find yourself hooked within minutes and you won't want to leave even after everyone else is gone.
Here are a couple of videos from last year's Car Free Day to give you a taste:
But of course, every year is a different selection of people and an entirely different experience 😉
#carfreeday #carfree #carfreedayvancouver #vancouver #britishcolumbia #canada #commercialdrive #festival #musicfestival #foodfestival #chalkart #hugzone #onesies #costumes #happy #freehugs #hugs #hug #hugsarenice