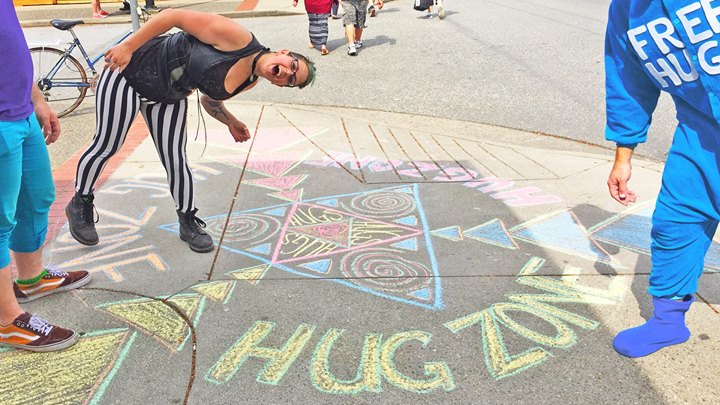 Hug Zone on Commercial Drive Aug 27
August 27, 2016 6:00 pm - 9:00 pm
Commercial Drive (Vancouver, BC)
2206 Commercial Dr
Commercial Drive (aka "The Drive") is known as one of the coolest spots in Vancouver because of the people – they're chill and open to anything. We'll be picking a spot to create a Hug Zone, offering hugs to anyone that enters it, and just having a good time.
Hug Zones were pioneered in Vancouver by Gabriel McCay (one of our best huggers, if not the best) as a method of artistic expression that causes ripple effects. Using sidewalk chalk and creativity, a group collaborates to make an area that draws people in, with wording that encourages hugging. Strangers will accept free hugs within the hug zone, but something magical happens even after the group leaves – people continue to walk into the hug zone and hug each other. Depending on the rain, the hug zones can last weeks, encouraging even more hugs every day. Is there anything more beautiful than artwork that causes actions and emotions? Even if you don't feel like hugging, come along and you can spend the entire time drawing on the sidewalk like you're a little kid again!
Join us by choosing "Going" and show up at the start time, or if you will be arriving later just fill out the form at http://hugsarenice.com with a method of contacting you (like your cell number or instant message preference) and we'll tell you where we're at!