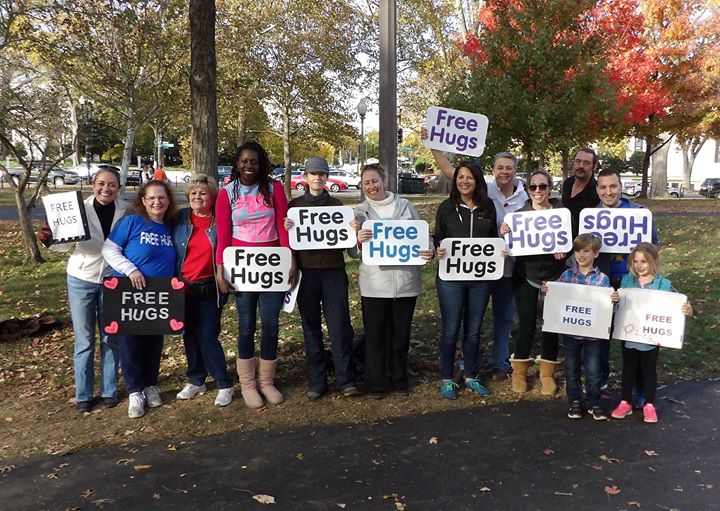 Memorial Day Free HUGS at Vietnam Veterans Memorial (Washington, DC)
May 29, 2017 7:00 am - 9:00 am
Vietnam Veterans Memorial Intersection of Constitution Ave. & 21st Street NW, Washington, DC
Hey FREE HUGGERS!!
On MEMORIAL DAY, MONDAY, MAY 29th, 10AM-12PM we will be offering and receiving FREE HUGS at the VIETNAM VETERANS MEMORIAL in DC.
It's OK to arrive late or leave early!
FREE HUGS gatherings generate so much excitement, joy, appreciation, connection, peace, love, smiles, "Thank you's," lots of laughter and such positive energy!!
Our FREE HUGS movement is all about "Spreadin' More Love" regardless of political, religious, racial or gender identification or any other identification.
"Put Love First…" Spreading LOVE is what we see as the purpose of having FREE HUGS gatherings. LOVE is far more important than any political, religious, racial, gender or any other differences. If everyone/all sides come together from LOVE concerning "issues" FIRST, then both sides can truly be heard! And then "issues" are more likely to be resolved Peacefully…
[PLEASE NOTE: FREE HUGS gatherings are really ONLY about Spread'n More Joy and Love. FREE HUGS gatherings are 1) NOT for advertising our businesses; 2) NOT about promoting political or religious or racial or gender issues or any other issues. Thank you for respecting this.]
Please RSVP at either of the following:
https://www.meetup.com/Free-Hugs-DC-MD-VA/events/237851616/
https://www.facebook.com/events/179434122545223/
We will meet at the Intersection of Constitution Ave. and 21st Street NW at 10:00 AM. We will give FREE HUGS near "The Three Soldiers" statue.
MAP: https://www.google.com/maps/place/Constitution+Ave+NW+%26+21st+St+NW,+Washington,+DC+20372/@38.8921007,-77.0488572,17z/data=!3m1!4b1!4m5!3m4!1s0x89b7b7af34b7363d:0x626ad92f705cd12d!8m2!3d38.8921007!4d-77…
We hope you will join us on MONDAY for a truly fun and Heart-Warming experience.{ : > )
Lots of Hugs…jeff
301-885-8259