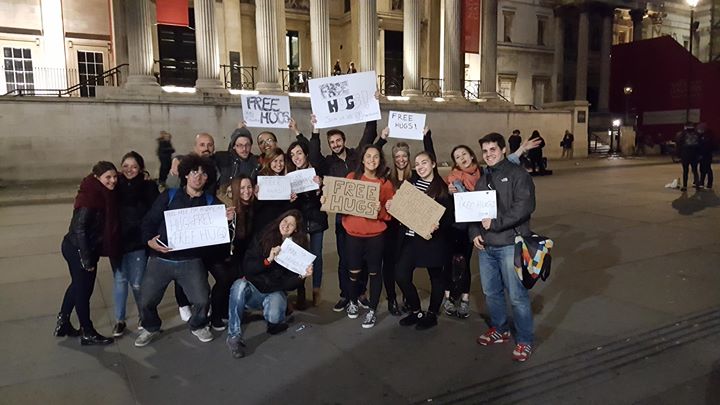 Abrazos Gratis (Puerta del Sol, Madrid)
December 23, 2016 9:30 am - 1:00 pm
Puerta del Sol Madrid
Puerta del Sol
ENGLISH BELOW
Tras nuestra exitosa quedada de Free Hugs en Londres, esta vez es el momento de hacerlo en Madrid!
Vamos a quedar, traer un poco de felicidad y alegrar a todo el que pase por Sol!
Esta quedada es para hacer a la gente volver a conectar, divertirse, y repartir felicidad! No serás capaz de quitarte la sonrisa de la boca! 🙂
PUNTO DE ENCUENTRO: La estatua del oso y el madroño, habrá alguna pancarta que tenga escrito Free hugs alrededor.
QUÉ TRAER: Una hoja y un rotulador para hacer vuestras propias pancartas! (Yo llevaré unas cuantas de sobra pero se acabarán pronto! )
Comparte el evento con toda la gente de Madrid y alrededores!!
—————————————————————————————-
After our successful Free hugs evening in London, this time it's the time to do it in Madrid!
Let's meet, bring some happiness and cheer up everyone passing through Sol!
This meetup is for bringing connection back to people, having fun, and spreading happiness! You won't be able to remove the smile from your face! 🙂
MEETING POINT: The statue of the bear and the arbutus, there will be some banner with Free Hugs written nearby.
WHAT TO BRING: A sheet of paper and a marker to make your own banners! (I'll bring some spare ones but we will run out of them quickly! )
Share the event with all people from Madrid and surroundings!
EXTRA: I let you some of the benefits of hugs 😀
1. Lower blood pressure. a decent length hug (6-12 secs) releases Oxytocin and as our levels rise, they interact with the hormones in our bodies which keep us alert for danger, allow our blood pressure to drop and helping us to relax and feel safe. Oxytocin also acts as a natural pain reliever so a hug really does scientifically make you feel better when you're hurting.
2. Reduces social anxiety. Oxytocin has been proven to makes people feel more optimistic, confident, trusting and relaxed. these are all good things so give the nearest person a good long hug right now!
3. Helps you loose weight and keeps your heart healthy! a good hug (with feeling) reduces cortisol levels (our stress hormone). Too much Cortisol can lead to weight management issues and stress on your heart muscles.
4. Stops you getting sick by releasing more white blood cells which strengthens your immune systems!
5. Helps us to feel more connected to the people around us and acts like exercise for our empathy and caring for others.