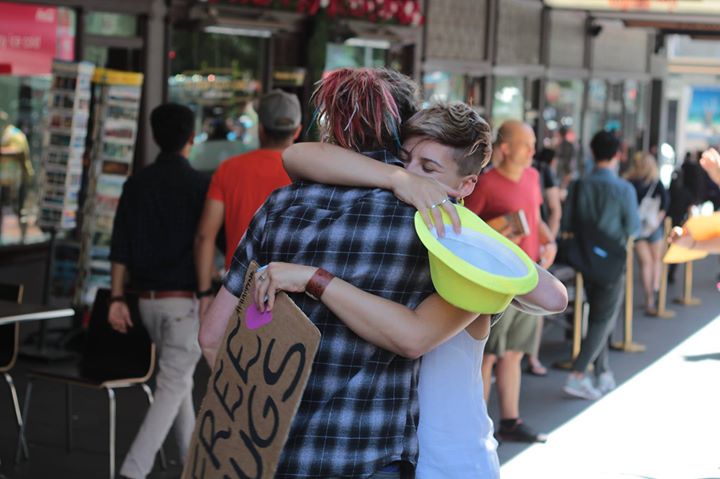 Free Hugs at Britomart (Auckland, New Zealand)
February 3, 2018 3:30 pm - 5:00 pm
66 Queen St, Auckland Central, Auckland 1010, New Zealand
Free Hugs at Britomart!
Join the collaborative effort to help brighten peoples' day.
Everyone welcome
Stay for as long or as short as you like! We're easy!
Make your own awesome sign (all materials provided and extra pre-made signs too)
Not a hugger or just not feeling it, but still want to be involved?
Hi-Fives are just as cool!
First Sunday of every month
12.30pm til 2pm
Corner of Fort Street and Queen Street, look for the yellow shirts!
A Little About Free Hugs:
Free Hugs is an incredible experience! It's one that requires courage, trust and vulnerability. When you put that out into the world, it's scary but also incredibly fulfilling.
Sometimes people can go throughout their day without anyone noticing them, feeling unimportant or simply down. Notice how it feels to have a stranger just smile at you? Now imagine that combined with a warm hug (or high five)!
P.S. Rainy days do tend to put a dampner on the experience, especially for the mighty brave huggers. So in the spirit of keeping this a fun event, we are likely to postpone on seriously wet days but cloud doesn't scare us away!
If you'd like to buy a shirt they are $20!
Hosted by the #HappyAKL Community
A group of people spreading love, kindness & compassion across Auckland city through 'Happy Projects'
Sparking some passion? Anyone can run, host or start a Happy Project – join #HappyAKL Community and help us spread happiness within the city your way!
Happiness is contagious!
Stay awesome everyone,
#HappyAKL
🙂