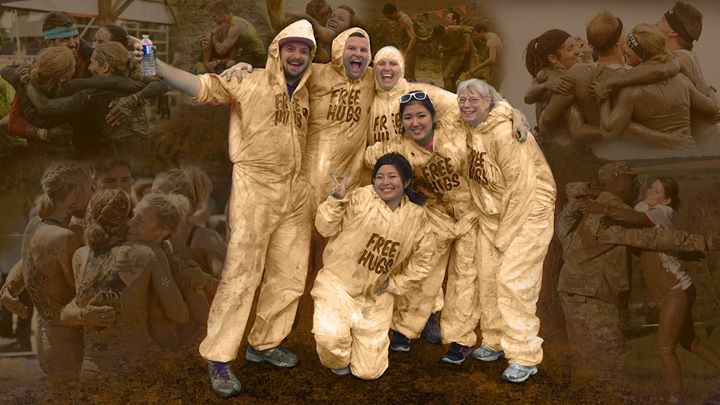 Tough Mudder Free Hugs (Las Vegas, NV)
October 29, 2016 12:00 pm - 2:00 pm
Tough Mudder Las Vegas
2030 Lake Las Vegas Pkwy
What do you get when you mix amazing people, unrealistic challenges, 20+ obstacles, and 500,000 gallons of mud? A perfect opportunity for free hugs! Survivors of the Tough Mudder (https://toughmudder.com/events/2016-las-vegas) deserve more than just a quiet walk to the car – they each deserve an amazing and enthusiastic "congratulations" hug!
Join us at the finish line where you can wear a set of our patented "free hug" bright white coveralls to keep you nice and clean as you hug the messiest people around. By the end of the day, we expect you will have had a constant supply of wonderful hugs and you'll be covered in their hug mud as proof. Let's get messy, have a great time, and give these Tough Mudders the finish line experience that they deserve!
Price: $20 in advance or $40 in person
Price?! Yes Tough Mudder actually charges a fee to be a spectator, can you believe that? It's unclear what that includes or why there's a fee (we wrote in to ask but never received a response), but since we'll be giving at least 200 hugs each, that's only 10 cents a hug which is well worth it!
Never given out free hugs before? Check out http://www.improvanywhere.ca/freehugs.html and http://hugsarenice.com/ to learn all about it, then just show up with open arms and a smile and that's all there is to it! This event is takes no preparation and requires no commitment whatsoever – give it a shot and feel free to leave at any time if it's not for you. But just so you know, you'll likely find yourself hooked within minutes and you won't want to leave even after everyone else is gone.
Get excited by watching a video from another of our messy free hug events – the Color Run: https://www.youtube.com/watch?v=nAp3jh40Zxs
*Please note that the Tough Mudder is happening on both Saturday and Sunday. We'll be there on Saturday and if it's a lot of fun, we'll be there on Sunday too!
More event details: http://web.toughmudder.com/2016%20TM%20TMH%20Las%20Vegas/TMH%20Info%20Pack%20NV.pdf