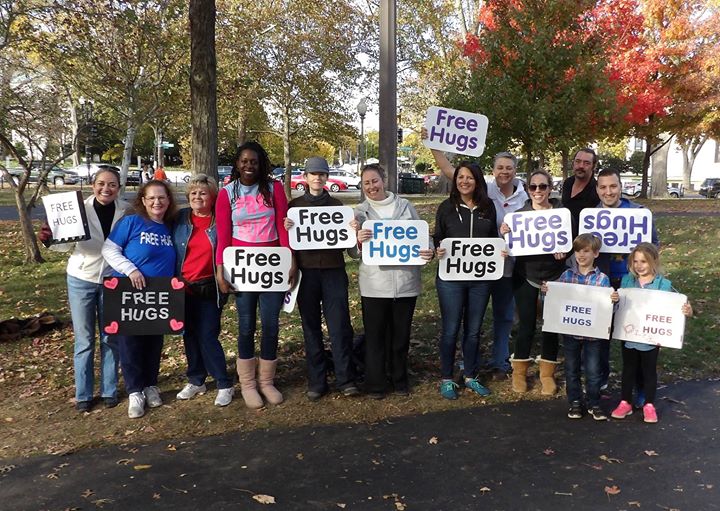 Free HUGS on the Smithsonian National Mall – April (Washington, DC)
April 16, 2017 11:00 am - 1:00 pm
Smithsonian's National Museum of Natural History
10th St. & Constitution Ave. NW
FREE HUGS – "Spread'n more Joy and Love!"
We hope you will JOIN us! For more information:
www.meetup.com/Free-Hugs-DC-MD-VA
FREE HUGS gatherings are so full of excitement, heart-connection, love with lots of smiles, thank-you's and laughter!!
WHEN: Sunday, April 16th at 2 PM – 4 PM
WHERE: At the Natural History Museum. OUTSIDE on the National Mall side of the Museum, we meet about 200 feet to the LEFT of the stairs that go up to the entrance.
It's OK to arrive late or leave early!
FREE HUGS gatherings generate so much excitement, joy, appreciation, connection, peace, love, smiles, "Thank you's," lots of laughter and such positive energy!!
Our FREE HUGS movement is all about "Spread'n More Love" regardless of political, religious, racial or gender identification or any other identification.
"Put Love First…" Spreading LOVE is what we see as the purpose of having FREE HUGS gatherings. LOVE is far more important than any political, religious, racial, gender or any other differences. If everyone/all sides come together from LOVE concerning "issues" FIRST, then both sides can truly be heard! And then "issues" are more likely to be resolved Peacefully…
[PLEASE NOTE: FREE HUGS gatherings are really ONLY about Spread'n More Joy and Love. FREE HUGS gatherings are 1) NOT for advertising our businesses; 2) NOT about promoting political or religious or racial or gender issues or any other issues. Thank you for respecting this.]
MAP: [ http://www.si.edu/content/ovs/mallmap.pdf ]
We hope you'll join us.
https://www.meetup.com/Free-Hugs-DC-MD-VA/
Lots of Hugs…jeff
301-885-8259 freehugsdcmdva@gmail.com