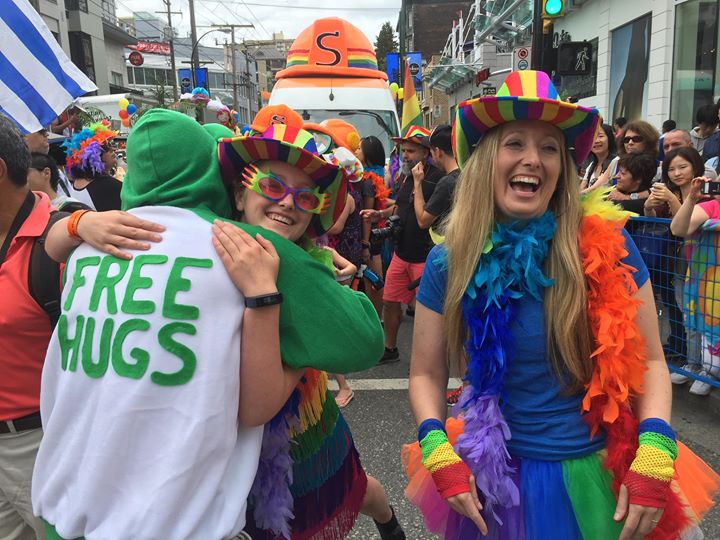 Free Hugs at the Pride Parade (Vancouver, BC)
August 6, 2017 11:30 am - 2:30 pm
1112 Alberni St, Vancouver, BC V6E 1A5, Canada
The Vancouver Pride Parade is a big deal, attracting hundreds of thousands of prideful people. Now imagine you're one of them – you dress head-to-toe in rainbows, navigate traffic and crowds to get to the parade, and watch the amazing spectacle, possibly feeling a little left out of the fun. You want to show your pride and be a part of it, but how? Free hugs! We'll be in the parade, going up to those smiling supporters, and giving them a chance to join in and share their pride with heartfelt hugs.
It really is a magical feeling to look out at the crowds, raise up your arms with the "free hugs" message, and experience the huge smiles and arms reaching out for their hugs. Get a small taste of that with this video playlist that contains clips from last year's Vancouver Pride Parade:
Join us! We'll be meeting up at the the Southwest corner of Alberni Street and Thurlow Street (hopefully the location of the official parade tent) at 11:30am where we'll sign up as individual participants (remember to bring your $5 entry fee), then we'll merge into the parade and offer hugs to everyone in it right up until it leaves at noon. We'll travel along the parade on each side of the street hugging the spectators one after the next. Last year there were three of us and we simply couldn't keep up with all of the hugs (one side of the street was often neglected) so we need help and we can't have too much help because it's a long parade and we can all just spread out.
Wear your brightest colors (check out http://hugsarenice.com/product-tag/parades/ for customized shirts of any color) but keep in mind that this will be one of the hottest days of the year and we'll be walking about 4 kilometers. So while we're usually big fans of onesies, light clothes and t-shirts are probably a better choice (unless it happens to be overcast and then onesie away). That said, silver short shorts and rainbow eyelashes aren't over the top – nothing is over the top and you should show your pride in all its glory! Oh and don't bring anything at all with you that you have to carry (if you do, you'll quickly realize how hard it is to carry things in a parade while hugging people) and backpacks always get in the way of hugs, but definitely look for every opportunity to get water along the route and at the Sunset festival at the end.
Never given out free hugs before? Check out http://www.improvanywhere.ca/freehugs.html and http://hugsarenice.com/ to learn all about it, then just show up with open arms and a smile and that's all there is to it! This event is only $5, takes very little preparation, and requires no commitment whatsoever – give it a shot and feel free to leave at any point along the route if it's not for you. But just so you know, you'll likely find yourself hooked within minutes and you won't want to leave, probably giving hugs at the Sunset Festival well into the night.